By Jamal Murphy, Ourlads Chief Fantasy Analyst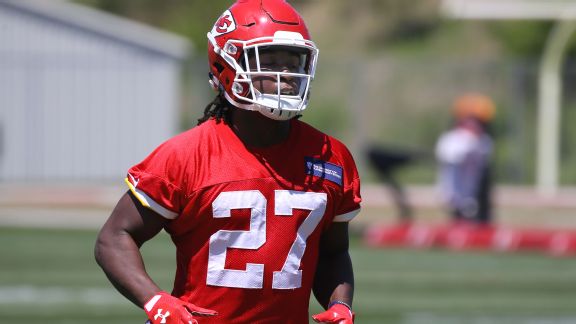 Fantasy Focus: Rookie and Second-Year Sleepers Stash
By now, you know all about the veteran players to draft, as well as the big-time rookies and second year players who are prominently featured atop depth charts. But, this is the NFL, and things change quickly. Injuries are guaranteed to happen and young players who have shown little to nothing to date, will undoubtedly be asked to step up and fill big roles for various franchises.

Here are a few not as heralded rookies and second year players for fantasy football owners to keep close tabs on.
ROOKIES
Kareem Hunt, RB, Kansas City…By now, Hunt should already be on your radar. Coming into training camp, many thought he would play a productive role in the Chiefs' offense, but after Spencer Ware's season-ending injury, Hunt will be looked on to carry the load. It doesn't seem like that will be a problem. Ourlads' 2017 Review noted that the powerfully built, compact runner was shifty and elusive in OTAs, and showed as a strong three down back. After looking good in preseason, he's rocketed to a third-round ADP, which could be a steal at this point.
Tarik Cohen, RB, Chicago…The North Carolina A&T product was looked at as a novelty prior to the draft. But then the Bears selected the 5'6, 179-pound "Human Joystick" in the fourth round and he impressed the coaching staff with his explosiveness and quickness. Now, Cohen is being taken much more seriously. Tiny, powerful backs have found success in the league of late and Cohen fits the bill, especially for a Chicago team that will need to manufacture offense. Cohen is only owned in 4% of fantasy leagues, so even the latest of draft picks could reap big benefits.
O.J. Howard, TE, Tampa Bay…Ourlads' 2017 Draft Guide tabbed Howard as the number one tight end in the class, calling him "tools-rich" and "hard-working," and "an every down and every situation type player." While, Cameron Brate is still a factor at the tight end position for the Bucs, odds are Howard's "envious catch radius" (close to 7-foot wingspan) will be put to use by Jameis Winston. Howard is currently coming off draft boards as a TE15 and is owned in only 37% of leagues. That's low for what seems like a natural at the tight end position.
SOPHOMORES
Corey Coleman, WR, Cleveland…Coleman recorded a modest 33 receptions and 413 yards as a rookie last season. That was a disappointment after a stellar career at Baylor, but he only played in ten games and the Browns didn't exactly have the ideal situation at quarterback. They still don't. However, in 2016 Dan Shonka and Ourlads loved Coleman's outstanding speed and aptitude to be a top-notch route runner. Assuming decent quarterback play, Coleman should outperform his current 113 ADP and 46 rank among wide receivers.
Paul Perkins, RB, New York…The UCLA product didn't see all that much action in Big Blue's backfield last season, but is expected to get his chance in 2017. "It's awesome, this is what we've been playing for," Perkins said of this chance after a practice last week. Shonka described him as "a creative back who can make a silk purse out of a sow's ear," pre draft in 2016. So, it should be no surprise to see Perkins become a top twenty running back in the league.
Josh Doctson, WR, Washington…Doctson played in just two games in 2016, after being drafted 22 overall by Washington. He has yet to shake the injury bug, as Doctson played in only one preseason game due to a nagging hamstring problem. But, the Skins still have high hopes for the sophomore based on what Ourlads described as his three-level receiving ability, great hands and ball skills. Doctson is only owned in 15% of fantasy leagues, so he's an underrated late round flyer or waiver wire pick up, before it's too late.