By Jamal Murphy, OFN Chief Fantasy Analyst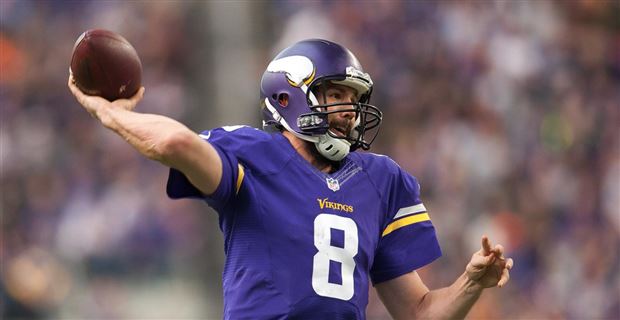 The Fringe (Week 2)
Each week, we at Ourlads will highlight players that are likely somewhere on someone's roster, but are misguidedly buried on their bench. Whether it's lack of name recognition or simply cold feet on the owner's part, these players are likely not receiving the fantasy playing time they deserve. Fantasy owners would be wise to find room in the starting lineup for these players this week.
QB Sam Bradford, Minnesota Vikings…Bradford looked like Joe Montana on Monday night versus the New Orleans Saints.  He passed for 346 yards while completing 27 of 32 passes. Add to that three touchdowns and no interceptions and you have a passer rating of 143. I know, Bradford's history doesn't quite lead you to believe that these numbers will be sustained, but he has more weapons than ever, a better offensive line and new found confidence that should allow him to keep things rolling versus Pittsburgh this Sunday.
RB Tarik Cohen, Chicago Bears…Yes, everyone and their mother has been telling you to pick up this shifty scat back this week. We, of course, were one of them when we advised you to stash him on your rosters as one of our rookies to watch. But now that you were smart and have him on your roster, do not stash him on your bench, play him! Now! Although he's only played one game and actually had limited touches in the running game (5/66 rushing), he did so much with those touches and was featured in the passing game (8/47, 1 touchdown). Further, he will undoubtedly see his role increase, as the Bears' limited number of weapons was reduced by one more in week 1 when starting wide receiver Kevin White was lost for the season with a broken shoulder blade.
WR Randall Cobb, Green Bay Packers…We had Cobb rated higher than most in our preseason wide receiver rankings. Now, we are not only advising that he be on your roster, it would be smart to get him in your starting lineup. After being hobbled with injuries the last couple seasons in Green Bay, the 27-year-old Cobb seems to be in rare form. Aaron Rodgers did not forget about him either. Rodgers targeted Cobb 13 times versus Seattle in week 1 and connected with him nine times for 85 yards. This week at Atlanta, the defense will likely be less stout.
TE Austin Hooper, Atlanta Falcons…Hooper scored big last week, totaling 128 yards receiving and a touchdown. The down side is he was targeted by Matt Ryan only twice, catching both passes. This can be looked at two ways. Either it was a fluke performance that means nothing, or Atlanta and Ryan now understand the weapon they have and will use him more. We're going with the latter. The 2
nd
year pro should become a bigger part of the Falcons' offense starting Sunday versus Green Bay.