By Jamal Murphy, Ourlads Chief Fantasy Analyst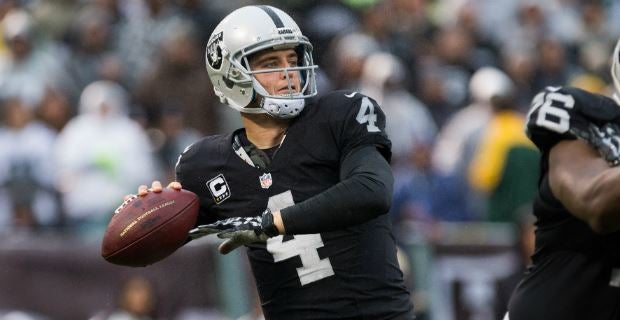 Most Underrated – The four players you want to take a chance with in your upcoming fantasy draft
Just like there are overrated players who won't live up to their pre-fantasy draft hype, there are of course underrated players who should be drafted a little earlier than popular convention. You would be wise to take a chance on one or two of these guys earlier than their ADP (average draft position) in order to reap the benefits of their production before your fellow fantasy owner thinks about them. Here are four players you should look out for early.
QB: Derek Carr, Oakland…People must've forgot. Carr had a monster season last year, leading the Raiders to a 12-3 record before going down with a devastating season-ending broken fibula. Carr finished the season 9th in fantasy points among QBs, but had he not been injured, he easily could've finished in the top four or five. Carr is currently going 12th among quarterbacks in fantasy drafts and in the 6th round in 12-team leagues. That is ridiculous, considering he looks to be fully recovered from last season's injury and has added weapons such as Marshawn Lynch and Cordarrelle Patterson to an already formidable offense. Think about taking Carr a round early, you won't be disappointed.
RB: Bilal Powell, New York Jets…The Jets will likely be bad this season. But, they will run and dink and dunk a lot, because they will also have a bad quarterback (I grew up a Jets fan, so I'm not bashing them). Powell should be the recipient of most of those touches. Powell led Jets' RBs in fantasy points last year. Matt Forte had slightly more rushing yards, but Powell added 58 receptions for close to 400 yards. With Forte a year older, Powell should carry even more of the load this season. Powell has been averaging out as the 26th RB taken in fantasy drafts, think about bumping him up ten slots.
WR: Kelvin Benjamin, Carolina…Most projections have Benjamin performing like he did last season, as a top 30 wide receiver. However, Cam Newton and the Carolina Panthers were horrible last season and Benjamin was returning after missing all of 2015 with a torn ACL. It usually takes a full season of play to fully recover from such an injury and you should expect to see Newton and the Panthers bounce back to form this year. Thus, expect Benjamin to be at least as productive as he was in his 2014 rookie season, if not more. Go ahead and bump Benjamin up a round from his current 5th round ADP.
TE: Dwayne Allen, New England…Allen has been completely forgotten in fantasy league drafts this season. The Patriots are adept at using two tight ends and Gronkowski is an injury risk anyway. Last season, Martellus Bennett played with and without Gronk and finished 7th in fantasy scoring among tight ends. Allen has a nose for the end zone; he recorded six touchdowns in 2016 and eight in 2014 for the Indianapolis Colts. Tom Brady should put him to great use.